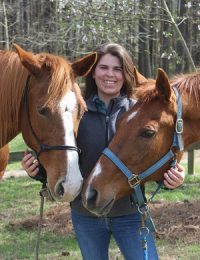 Dr. Loyd, originally from Nashville, TN, has lived in North Carolina from a young age where she developed her love of horses. She especially enjoyed 4-H and competitive trail riding. In high school, when not at soccer practice or a cross-country meet, she began working at a local small animal clinic with the hopes of someday becoming a veterinarian.
After high school, Dr. Loyd attended North Carolina State University where she earned a Bachelor's Degree in Animal Science and later went on to earn a Doctorate of Veterinary medicine in 2018. During college she worked for the NC State Small Ruminant Educational unit where she fell in love with sheep and goats. She spent several months in Haiti for the NC State Haiti Goat Project where she earned the nickname "GG" for goat girl. During veterinary school she focused on food animal species like cattle, swine, sheep and goats but never forgot her original love for horses or the family dogs and cats.
When not running around the clinic, Dr. Loyd can usually be found curled up with a good book and her cat, Sari, or exploring the backwoods with her horse, Hayley. She also enjoys hiking the mountains of western NC, pursuing the family tradition of gardening and cheering on her favorite soccer team, the Carolina Courage.