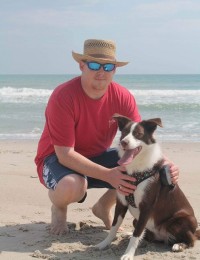 Dr. Thornton grew up on a farm in Grantham, NC and has always enjoyed living in eastern North Carolina. Growing up, his grandfather sparked his interest in animals from a very early age. He was very active in 4-H and FFA, including showing swine, goats, sheep, and cattle in the livestock shows and fairs. During high school, he also maintained his own flock of laying hens and sold eggs to several local stores, restaurants, and individuals in the community. He currently has two dogs, a horse, and a small back yard flock of chickens.
After high school, Dr. Thornton attended North Carolina State University where he earned his Bachelor's Degree in Poultry Science with a Minor in Agricultural Business Management, and then his Doctorate of Veterinary Medicine. Dr. Thornton opened Quality Care Animal Hospital in Four Oaks in January of 2014 and has thoroughly enjoyed every day since.
Outside of work, Dr. Thornton enjoys spending time with family and friends, running, playing tennis, fishing, and spending time outdoors. He is also a lifelong member of Selah Christian Church, where he currently serves as chairman of the church board. Dr. Thornton is also active in his community through his involvement with Mill Creek Masonic Lodge, Relay for Life, the Wayne County Livestock Development Association, and several pet rescue organizations.